Brake replacement is a very important service your vehicle needs to operate safely. The service experts in our
service center
can inspect your vehicle's brake system to learn what services it requires so we can get you back on the road safely. Learning what signs to look for and how often to change your brakes can keep you from causing harmful stress to your vehicle or encountering an unsafe situation.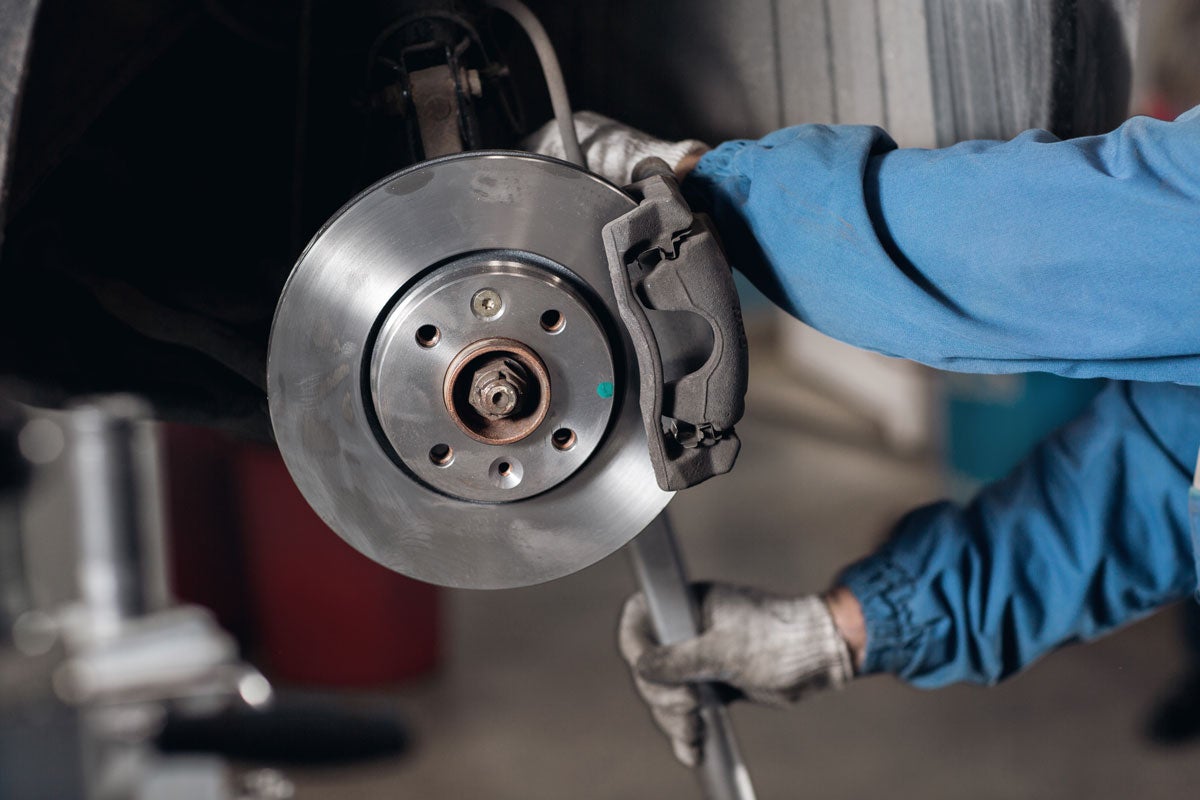 How Long Do Brakes Normally Last?
How long your brakes last can depend on your vehicle, how often you drive, and your style of driving. Because these factors can impact brake longevity, the range for when to replace your brakes can range from 25,000 to 60,000 miles. This equates to about every three to six years, depending on how much you drive. There are steps you can take to keep your brakes healthy longer so you can go longer between replacements.
When To Replace Your Brakes
There are a few warning signs your car might give you that tell you it's time to replace your brakes. Here are some things to watch out for:
Squealing Sounds While Braking
One of the first warning signs your brakes may give you is a sharp squealing sound when you brake. Try turning off the music and coming to a stop with the windows down to hear if your brakes make a noise when you stop your vehicle. There are a few reasons you might hear squeaking coming from your brakes. One reason is because there's excess moisture or a foreign object lodged between your brake pads and rotors.
More often, however, it's because the pads of your brakes are worn down, revealing the metal plate underneath. The high-pitched sound you hear is the sound of that metal interacting with your rotors. Letting this go on for too long can cause considerable damage to your rotors, so if you hear the squealing, take your vehicle to one of our service professionals right away.
A Shaking Steering Wheel
Another warning sign that you need new brakes is a shaking steering wheel. You might notice this if you're braking on hills or slowing down at a traffic light. Your steering wheel might vibrate in your hand, signaling that your brake pads are no longer doing their job and padding your rotors.
Slow Braking Time
When driving a new vehicle, you might notice the brakes are very reactive. A slight push on the brake pedal sends you and your passengers hurtling forward. While this can take some getting used to, it's ultimately a good sign that your brakes are new and functional. As those parts wear down, the time between pushing the pedal and your car coming to a stop can lengthen. If you notice your vehicle is taking longer than usual to get your car to come to a complete stop, come in to see us so we can inspect what may be happening.
Tips for Long Lasting Brakes
Keeping your brakes healthy can save you money and can keep your car operating smoothly. While even the best drivers need their brakes replaced from time to time, there are steps you can take to ensure you're using your brake system correctly. Here are some tips to follow for optimal brake health:
Use Lower Gears on Steep Hills
In Lewisville, most of our hills are more rolling than steep, but it's still a good practice to downshift if you find yourself riding your brakes on a steep grade. You can use a lower gear to slow your engine rather than the brakes to slow the wheels. This can save your brake pads undo stress. If you drive a manual vehicle, you can downshift to a lower gear to achieve the speed you want without needing to brake your entire way down.
Avoid Sudden Braking
Slamming on your brakes can also be hard on your brake system. Coast to a stop wherever you can instead. Typically, driving in a city causes you to brake more frequently than driving in the country. Finding alternative routes or limiting city driving where possible can help save your brakes from frequent stops and starts.
Invest in Quality Brakes
Using quality materials can also improve your brake performance and durability. At Huffines Chevrolet Jeep Dodge Ram Lewisville, our service experts use only the best manufacturer-grade parts in the vehicles we service. Know you're getting quality replacement parts that are made for your vehicle and that can last you for years to come.
Change Your Brakes When Needed
Frequent service and inspection can help you know when it's time for a brake change. You can easily schedule a service or inspection online. Getting your brakes replaced right away can prevent damage to your vehicle that could require more extensive repairs.

Our team of service experts is here to answer any additional questions you may have. Contact us or come in to see us today. We can help you find parts, inspect your vehicle for necessary repairs, and perform services to keep your vehicle road safe and operating smoothly. We perform a variety of vehicle services that can offer you peace of mind for your car, truck, or SUV.
What Does Brake Service Include?
Different vehicles use different braking systems. Some vehicles use disc brakes on all four of a car, truck, or SUV's wheels, while others use drum pads on the rear wheels. Many modern vehicles include an anti-lock braking system. This system keeps brakes from locking when they encounter hazardous road conditions, like black ice.

A lot happens when you push the brake pedal of your vehicle, so protecting every component of the system, including the ABS Control Module, disc brakes, drum brakes, emergency brake, and brake pedal, is important for maintaining a well-functioning vehicle. We look closely at each of these components to make sure they're all operating soundly, so we replace the right parts with quality equipment that can keep you safe on the road.

Huffines Chrysler Jeep Dodge Ram Lewisville Brake Service




At Huffines Chrysler Jeep Dodge Ram Lewisville, our top priority is keeping our customers safe on the road in vehicles they can rely on. Regular maintenance can keep you from causing irreparable damage to your vehicle and save you both time and money. If you think it's time to replace your brake pads or brake fluid, come in to see us. Our service experts have all the tools and experience needed to get you back on the road quickly and safely.