Welcome to Our Mopar Service Center
Our Lewisville service center uses state-of-the-art diagnostic equipment to inspect your car, truck, or SUV. In addition, we provide our technicians with the best tools and equipment to repair or maintain every part of your vehicle. Therefore, when you service your vehicle with us, our technicians will complete your repairs and maintenance quickly and efficiently. Compare this to other repair facilities using old, outdated tools and equipment.
To make servicing your vehicle even easier, we created our Express Lane service. Using our Express Lane for your routine maintenance needs helps you get in and out fast. In addition, our Express Lane accepts drive-ins without an appointment. Still, you can schedule service online if you prefer to work with us that way.
Our Services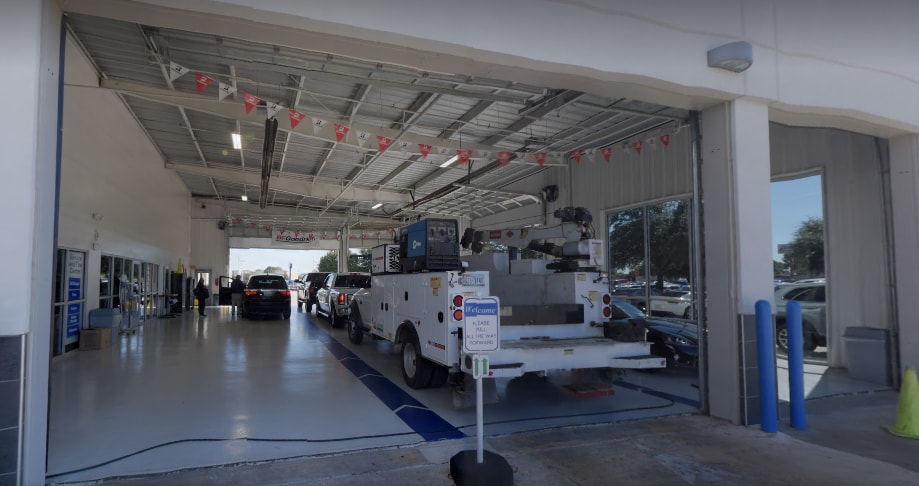 Our factory-certified technicians have the expertise to service or repair any part of your car. We can handle routine services like an oil change or more complex repairs to systems like your engine, drive train, or cooling system. Our services include:
Oil Changes
Huffines CJDR Lewisville uses only original equipment manufacturer parts and oil for our oil changes. You can conveniently schedule your oil change online or stop by our Express Lane at any time for immediate attention. Our technicians can change your oil in less than 30 minutes.
Tire Rotations
We can rotate your tires while changing your oil without adding time to your service visit. Rotating your tires helps prolong your tires' life by evenly spreading the wear. We suggest rotating your tires during every odd oil change appointment, usually around 8,000 miles. You can check your owner's manual for the exact interval.
Brake Inspections and Service
We recommend having your brake system inspected every 10,000 miles. At the very least, brake pads wear out and eventually need replacement. In addition, your brake system has many complex moving parts that also wear out or get damaged through normal operations. Our technicians will inspect your brake pads for wear and examine the entire system to ensure your brakes operate correctly and safely.
Battery Service and Replacement
Our technicians will test your battery for proper operation. Your battery must hold a charge and provide electricity to start and operate your vehicle. If your battery shows signs of failure, we'll recommend you replace it with a new one. We will have the battery you need in stock in most cases and can replace it immediately.
General Maintenance
Our technicians can provide all the required general maintenance on your vehicle. These maintenance services include spark plug replacement, air conditioning services, fluid level corrections, electrical system repairs, and air and fuel filter replacement. If you believe you have a problem with one of these systems, bring your car into our service center and let one of our trained technicians run the appropriate diagnostics. If you need service on your car, we invite you to schedule service online or stop by our South Stemmons Freeway service center at any time.
Full-Service Tire Department
If you're experiencing problems with your tires, bring your vehicle to our tire department. Our technicians have the training and experience to help you, and they will run a complete diagnostic work-up on your car to determine the specific problem affecting your tires. 
Sometimes, you might find out that there are no problems with your tires but your steering or suspension systems. A problem with your steering system can mean that a ball joint, tie rod, or shock absorber is broken or worn out. These are the parts that keep your wheels in the proper position, so when they fail, they feel like your tires aren't providing the traction and control they should.

 
Your vehicle's alignment could be off, which could also cause issues with your tires. Your car needs to have its wheels sit in precise locations within the steering system. When the wheels become misaligned, you will experience problems with steering that feel like your tires aren't working correctly. A bad alignment will also cause your tires to wear unevenly and prematurely.

 
It could also be something simple, like an unbalanced tire. We balance tires by attaching weights to the rim of your wheels. These weights reduce the rotational vibration for even wear and smoother performance. 

Our technicians can fix all these problems. 
Repair costs for ball joints, tie rods, and other steering and suspension equipment vary based on make and model.

 
A wheel alignment costs far less than replacing tires because they've worn out prematurely.

 
Tire balancing costs around $10 per wheel. Our technicians can find the right tires for your car in our expansive inventory if you need tires, and we can install them immediately.

Ignoring these problems presents serious safety issues, so you should address them immediately.
Why You Should Choose Huffines CJDR Lewisville
We want every customer to leave our service center 100% satisfied with the experience, from check-in to inspection, and the quality of service provided through check-out. So, when you bring your car to us for service, we'll take care of it like it was our vehicle. We'll use only OEM parts and repair practices, so you can drive away knowing that your car will run in tip-top condition.
Don't hesitate if you believe you need service on your Chrysler, Jeep, Dodge, or Ram vehicle or want an inspection to ensure that all systems operate as they should. You can conveniently schedule service online or stop by our Express Lane today. Additionally, if you have questions regarding regular maintenance, please feel free to contact us or visit our service center on South Stemmons Freeway at your convenience.